I initially studied as a sculptor in Bordeaux and now live in Devon where I make my unique handmade jewellery specialising in bracelets, necklaces, rings, earrings and cufflinks.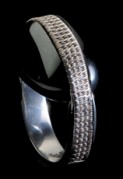 My work is inspired by sculptural forms in the natural environment around my studio. I weave precious metal wire to create organic patterns and surfaces with textile qualities. I use semi-precious stones, cut or uncut, to provide contrast with the weaving and to provide the shape to create elegant pieces of jewellery.
At the beginning of 2011 I received an award at the Goldsmith's Craft and Design Council as part of their Craftsmanship & Design Awards 2011 competition. My work was selected together with a small group of other winners from over 800 competition entries.
In September 2011 I exhibited my work at the prestigious contemporary craft fair Origin. Origin, supported by Arts Council England, is an annual showcase of the most innovative and original of UK and international contemporary craft makers.